SBA 8a Status Qualifications & SBA 8a Certification Application Requirements 13 CFR Part 124.103 & How to Get 8(a) SDB Certification as a Small Business
Make Sure That When You Apply,  the SBA does Not Have a Reason to Make Criminal Allegations for False Representation. We Help Small Businesses in ALL States.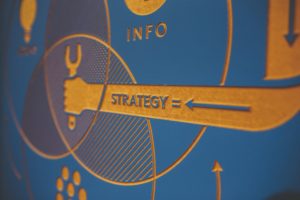 Understanding the 8a requirements and SBA 8a qualifications may seem simple initially. However, in terms of legal analysis and the reasons for application denials, the difficulty in understanding how to get 8a certified will soon become apparent.  Single member LLC's may not have as many issues as multi-member LLCs. However, as an applicant you still have to look under every rock to see if there are concerns that the SBA may have.
At Watson & Associates, our purpose is to help you understand and follow the requirements for 8a certification in addition to increasing your chances of approval. When it comes to meeting SBA 8a certification qualifications and getting your 8a status, our SDB Certification consultants and 8a lawyers have a sound track record in helping small businesses to:
Overcome SBA affiliation with current business clients;
Make sure that social and economic narratives (if needed) are convincing and meet legal requirements;

Address potential control issues and can get your SBA 8a application denied;

Appeal adverse decisions to SBA Office of Hearings and Appeals.
WE HELP SMALL BUSINESSES IN ALL STATES. GET A FREE INITIAL CONSULTATION. CALL 1.866.601.5518
Do You Meet the SBA 8a Certification Requirements and 13 CFR 124 SBA 8a Qualifications?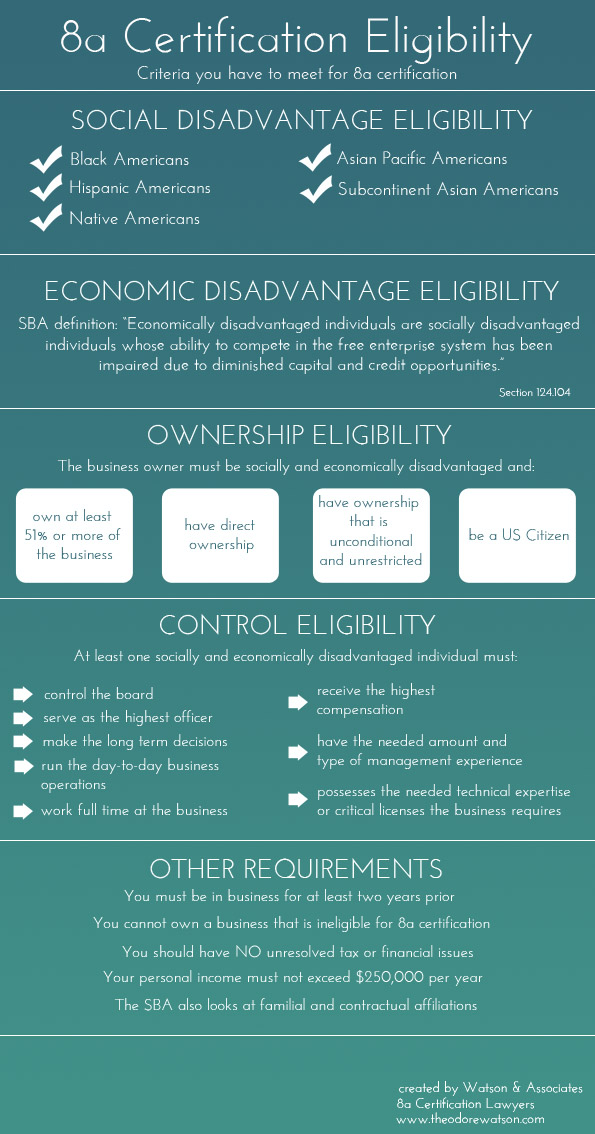 Avoid Common Traps That Get Applicants Denied. We Help Small Businesses Nationwide To Avoid the Biggest Hurdle for Applicants – business relationships and affiliation. Get Help Today.
Knowing how to get 8(a) certification, or to increase your chances of getting your SBA 8a status, you must meet the following 8a requirements for SBA certification qualifications under 13 CFR Part 124 and SBA  8a qualifications:
Must be a small business concern based on applicable SBA size standards for small businesses in your industry.

All individuals upon whom eligibility is based must be U.S. citizens.

Must be the unconditional majority owner of the business.

Outside business interests are strictly limited.

Must work full-time in your business.

Must be in immediate charge of your business.

Board control, in the case of a small business corporation, can be exercised only by disadvantaged persons.

Must be a socially disadvantaged individual. Socially disadvantaged individuals are those who have been subjected to racial or ethnic prejudice or cultural bias within American society because of their identities as members of groups and without regard to their individual qualities. 

The social disadvantage must stem from circumstances beyond their control. Under the Small Business Act, certain presumed groups include African Americans, Native Americans, Hispanic Americans, Asian Pacific Americans, and Subcontinent Asian Americans. Other individuals can be admitted to the program if they can show evidence that they are disadvantaged because of race, ethnicity, gender, physical handicap, or residence in an environment isolated from the mainstream of American society

Must have ultimate control of your company and must not reside with anyone other than those upon whom 8a certification eligibility is based.

Must be an economically disadvantaged individual. For the 8(a) program this means all applicant individuals must have a net worth of $250,000 or less, excluding the value of the business and personal residence.

Must be in business for at least two years or apply for a waiver of the two-year requirement.

Must not have any significant unresolved federal or state tax financial issues.

Must be of good moral character.

Must not operate a business that is not eligible for certification.
To find out more about getting 8a certified and federal SDB certification and SBA 8a requirements and 13 CFR  Part 124.103 8a qualifications and narrative statement of economic disadvantage (SBA has reduced this requirement), call our SBA small business consultants at 1-866-601-5518.
Learn more about getting 8(a) Sole Source Contracts With the Government.
See also Government Programs to Help 8a Small Businesses and bidding on lowest price technically acceptable contracts.
Getting 8a Certified – Social Disadvantage SBA Certification & 8a Eligibility Requirements Under 13 CFR Part 124
The law governing  SBA 8a certification requirements and SBA 8a qualifications mandate that an applicant 8a business concern meets the eligibility requirements for admission to the SBA 8a Program.
To get your SBA certification , businesses must qualify as a small business that "is unconditionally owned and controlled by one or more socially and economically disadvantaged individuals who are of good character and citizens of and residing in the United States, and which demonstrates the potential for success." 13 CFR  Part 124.101.
Tip: The SBA's decision for requirements for 8(a) certification for "potential for success" cannot be appealed to SBA OHA.
To meet SBA 8a Program certification requirements, socially disadvantaged individuals are defined as those who have been subjected to racial or ethnic prejudice or cultural bias within American society because of their identities as members of groups and without regard to their individual qualities." 13 CFR 124.103(a).
This requirement creates a rebuttable presumption that members of certain groups are socially disadvantaged. 13 CFR 124.103(b). To get 8a certified, individuals who are not members of the enumerated groups must establish social disadvantage by a preponderance of the evidence. See 13 CFR Part 124.103(c)(1).
Narrative Statement of Economic Disadvantage & SBA 8a Requirements for Education
When reviewing your application for eligible education claims, the SBA takes into account "such factors as denial of equal access to institutions of higher education, exclusion from social and professional association with students or teachers, denial of educational honors rightfully earned, and social patterns or pressures which discouraged the individual from pursuing a professional or business education." 13 CFR 124.103(c)(2)(iii)(A).
Under the rules for requirements for 8a certification, you cannot make conclusory statements in your narrative statement of economic disadvantage when seeking to get 8a and SDB certification. You must back them up with factual evidence;

SBA 8a certification requirements mandate that you show an end result and not just that a situation was present.
Avoid Problems With 8a Small Business Economic Disadvantage Qualification for  8(a) Program Applicants?
The SBA looks at a series of issues when making a decision as to whether or not your claims of economic disadvantage meet the requirements of 13 CFR 124.104 (c).Looking at factors relating to your personal financial condition is critical to receiving your small disadvantaged Status.
13 CFR 124.104(c) states that the SBA should evaluate your claims of economic disadvantage by considering: . . . factors relating to your personal financial condition when claiming small disadvantaged status, including personal income for the past three years, personal net worth, and the fair market value of all assets, whether encumbered or not.
If you exceed any one of the regulatory thresholds for personal income, personal net worth, or total assets, the SBA will decide that you are deemed to have access to credit and capital and not economically disadvantaged.
Overcome Problems With SBA 8(a) Certification Eligibility and Net Worth Requirements
Net worth requirements is one of the many challenges that you can avoid when trying to comply with 8s qualification. If by claiming economic of the claiming disadvantaged status net worth is not less than $250,000, then the SBA will disapprove your small disadvantaged 8a business status. As a result, your 8a certification eligibility will suffer.
Unless you have solid support to show on appeal that the  SBA's decision to deny your 8(a) application for  the 8(a) BD program was  arbitrary, capricious, and contrary to law, then SBA OHA will agree with the SBA's decision that you do not meet the 8a net worth requirements.
Common problems that you have to avoid include:
failure to properly adjust net worth for a bona fide debt;

error in calculations

misevaluation of transactions such as purchase agreements.
Tip: When calculating  your personal net worth for 8(a) eligibility a loan by you to the business is an asset to you the owner." Computer One. Inc., SBA No. BDP-148 (2001); Matter of Logicare, Inc., SBA No. MSB-576 (1997). Therefore, you want to properly account for personal loans and loans to your small business when considering 8(a) net worth requirements.
8a Small Business Qualifications – Failure to Show Potential for Success Cannot be Appealed
As an SBA 8(a) BD Program applicant, you can only appeal a denial of your 8a certification application if the SBA's denial is based solely upon a negative finding of social disadvantage, economic disadvantage, ownership, or control. See 15 USC 637(a)(9); 13 CFR 124.206(a).
SBA OHA must decline jurisdiction if the SBA's decision was based, even in part, on any other grounds. See, e.g., Pynergy, LLC, SBA No. BDPE-525 (July 23, 2014); Platinum Business Services, LLC, SBA No. BDPE-504 (Aug. 29, 2013); Novel Wares, Inc., SBA No.BDP-454 (Nov.21, 2012).
With that said, failure to show the potential for business success  is the kiss of death when preparing your 8a application. If the SBA is not convinced that you show potential for success, then there is not much you can do.
For SBA Certification, Show Clear Evidence of Social Disadvantage Due to Bias and Discrimination
Meeting SBA certification requirements is a huge challenge. To be successful, your task is be able to tell your story. If you cover the relevant facts and support the application with clear evidence, such as affidavits, communications etc., the SBA will have to seriously consider such evidence.
The problem with applicants seek to get their 8a status is that they are not familiar with the depth of information and supporting evidence for your allegations. Everyone's story and facts for meeting the SBA's 8a requirements are different. Knowing how to put the application package together is the key to getting 8a certified.
Our 8a certification consultants ensure that you carefully go through the entire SBA 8a certification application process in order to avoid any false representation in your narrative statement of economic disadvantage.
We help 8a certified companies with contract joint venture agreements and teaming relationships. Also, find out more about SBA joint ventures and the three-in-two (3 in 2) rule.
Call Our SBA Certification Consultants for Help With Meeting Your Small Business 8a SDB Certification Requirements
For additional assistance with your SBA 8a certification application requirements under 13 CFR Part 124.103, a narrative statement of economic disadvantage, and small disadvantaged business  SBA certification eligibility qualifications call our consultants at 1-866-601-5518 for a FREE INITIAL CONSULTATION.